In November 2022, Dr. Elizabeth Schenk, PhD, RN, FAAN, College of Nursing Research Assistant Professor, attended the 27th Conference of the Parties (COP27) of the United Nations Framework Convention on Climate Change (UNFCCC) in Sharm El-Sheikh, Egypt. COP27 hosted over 100 Heads of State and Governments representing almost 200 nations, over 35,000 participants and numerous pavilions highlighting climate action around the world and from many sectors.
Dr. Schenk attended in person, representing Providence. The event covered several issues, including the target to keep global warming below 1.5ºC, decrease in the use of fossil fuels, and the creation of a fund addressing "Loss and Damages".
"Many nations which are seeing the worst impacts today, particularly in the global south, are least responsible for emitting greenhouse gases, which warm the planet and cause harm. The agreed-upon fund will provide needed resources and mechanisms for equitable payment to address losses and damages."

Beth Schenk, PhD, RN, FAAN is the Executive Director or Environmental Stewardship for Providence, https://missoulacurrent.com/missoula-climate-efforts/
Highlights
COP27 Panel Session: STRONG MEDICINE: U.S. Progress in Enhancing Health Systems Sustainability and Resilience at Home and Abroad
This session starts at 5:07.
Podcast: NHE 5-14 Many Voices – Nurses at COP27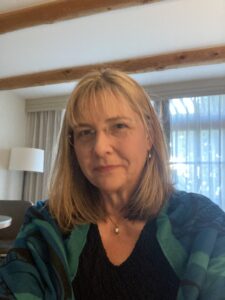 Elizabeth Schenk, PhD, RN, FAAN, is a leader of environmental stewardship in healthcare, where she has been working to reduce pollution from healthcare for 3 decades. Schenk is the executive director of environmental stewardship for Providence, one of the largest non-profit health systems in the United States.
She led the development of CHANT: the Climate and Health Tool to understand perceptions, behaviors and motivations of health professionals regarding climate and health. She developed the WE ACT PLEASE framework for environmental stewardship, identifying key focus areas of Waste, Energy/water, Agriculture/food, Chemicals, and Transportation.
Schenk serves on the national board of the Alliance of Nurses for Healthy Environments, and on the boards of Montana Health Professionals for a Healthy Climate and Climate Smart Missoula. She lives in Missoula, Montana.